Large and stable source of raw materials
Ensured freshness and consistent high quality
Compliance to local and global production standards for Food
Biotechnological zero- waste production mindset
Intensive R&D focus, specializing in providing customizable solutions
Pioneering production model
Sole shrimp co-products processor meeting stringent food production standards.
Major focus on wastewater treatment to mitigate environmental impacts
Strict control throughout production
International quality standards
Guaranteed traceability
Strategic global cooperation with scientific experts & leading corporations
Collaboration across all segments to continuously improve and expand operation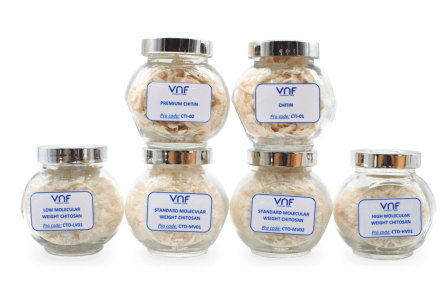 BioPolymers with diverse applications and unlimited potential for further development
Food Ingredients – Natural & Delicious
BioNutrients – Novel feed ingredients applicable in Aquatic Feed, Animal Feed and Agriculture – A premium, high-quality source of low-molecular-weight peptides and free amino acids.
The cost of the clothes in our closet is not how much we paid for it, but the cost to the environment to make it. While fabrics better our lives in many ways, the greater textiles industry contributes immense global carbon emissions and is responsible for approximately 20% of wastewater worldwide. No doubt, if today's lifestyle patterns continue, global apparel consumption will grow rapidly
Born from a shrimp's 'shell clothing,' VNF's Chitosan offers immediate, eco-friendly solutions to empower the textiles industry to be less reliant on chemicals and ultimately sustain eco-friendly growth. Because VNF believes your clothes shouldn't come at such a high cost to the Earth's wellbeing.