2019 Food ingredients: 'future of nutrition' award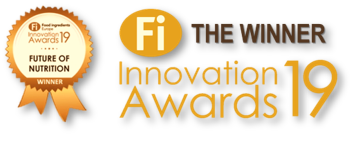 Considered one of the most prestigious award shows in the global food ingredients industry, winning the 2019 Fi (Food Ingredients) Innovation Awards is a strong testament to the unlimited potential value and growth of VNF's food segment.
Highly regarded as a pioneering 'Future of Nutrition' company, VNF's unique and natural food product portfolio adds exponential value to shrimp co-products, helps reduce environmental outputs, and contributes an abundant protein source for the people
PROJECT "The national technology innovation program"
The National Technology Innovation Program is organized by the Ministry of Science & Technology (MOST) and designed to support  companies' research and application of advanced modern technologies for key national products.
In 2019, the program attracted more than 300 proposals across more than 50 different technology fields after 5 years in action
VNF received funding to boost the innovation and technology of Chitosan and its derivative products on an industrial scale. The aim was for VNF to build on its existing zero-waste biotechnology whilst reducing chemical consumption throughout the entire process.
With an abundance of advantageous 'green' properties applicable to diverse industries, the global Chitosan market is expected to continue rapidly growing. Due to Vietnam's abundant shrimp co-products raw materials source, Vietnam is fully capable of securing a dominant market position in the global Chitosan market (with the proper investments and eco-friendly technology).
MEMBER OF VIETNAM SCIENCE & TECHNOLOGY BUSINESS ASSOCIATION
Vietnam Science & Technology Business Association (VST) is a social organization of all Vietnamese sci-tech enterprises engaged in innovation and application of scientific and technological research to production and life.
PROJECT "FOSTERING innovation THROUGH RESEARCH, SCIENCE AND TECHNOLOGY (FIRST)"
The FIRST project is funded by the World Bank and is under the management of the Ministry of Science and Technology (MOST). The objective of FIRST is to boost scientific research, develop technology applications, and promote value-added technological innovation within companies.
VNF's proprietary biotechnological zero-waste production model to reduce shrimp co-products waste and increase recovery value was granted funding under FIRST. VNF's project proved the novel, sustainable, and ultimately necessary direction needed for both the shrimp co-products and wider shrimp industry, both nationally and globally.
Furthermore, the development of VNF's zero-waste biotechnology production model proved the successful cooperation between scientific research institutes, universities, and respective businesses. Altogether, each party contributed to VNF's development from research, mass-production, and ultimately product commercialization.
SCIENCE & TECHNOLOGY ENTERPRISE CERTIFICATE
Demonstrating the success and efforts in scientific research, technological development, production, and business activities for the Shrimp Soluble Extract (former name of Shrimp Protein Hydrolysate) product.
NATIONAL TYPICAL RURAL INDUSTRIAL PRODUCTS award
 (FOR shrimp Protein Hydrolysate and chitin)
In 2017, VNF's Shrimp Soluble Extract (former name of Shrimp Protein Hydrolysate) was awarded as an 'Outstanding National rural product'. Following on, in 2019, VNF's Chitin was similarly awarded as an 'Outstanding Provincial rural product'. 'Outstanding products' are recognized by Vietnam's Ministry of Industry and Trade and considered to be at the forefront of Vietnam's key national industries.
VCIC (Vietnam Climate Innovation Center) is funded by World Bank and under the management of the Ministry of Science and Technology (MOST). VCIC supports innovative businesses tackling climate change starting from incubation to market commercialization.
VNF's biotechnological zero-waste shrimp co-products processing project was one of 20 winners (amongst over 300 proposals) to receive funding from VCIC. VNF was particularly recognized for both adding value to the shrimp co-products, which is considered waste, whilst simultaneously reducing waste and environmental pollution.
Vietnam clean production & energy efficiency project (CPEE)
A voluntary pilot program focused on the economical and efficient use of energy (VA Program), within the World Bank and Global Environment Facility's (GEF) framework "Vietnam clean production and energy efficiency project" (CPEE), which is sponsored by World Bank and Global Environment Facility (GEF)
As a participant of the VA program, VNF is committed to reducing energy consumption and production costs in accordance with legal regulations. 
After more than one year of the VA program, VNF's biotechnology solutions led to VNF being honored as the business with the most effective energy-saving solutions.