Modern and urban life poses significant challenges for our beloved four-legged friends, both mentally and physically. No matter how much you love them, it can be unrealistic to change our entire living environment and lifestyle for them. But did you know adding Astaxanthin into your pets' diet can alleviate negative impacts in both their life and yours?
In "Pet Dreams – The pursuit of wellness and Longevity" part 1 (ASTAXANTHIN SERIES – PART 5/9: PET DREAMS – THE PET PURSUIT OF WELLNESS & LONGEVITY (P.1) ), we uncovered: 1) How Astaxanthin helps healthily maintain body functions of pets 2) How Astaxanthin prevents, treats and delays chronic diseases related to obesity, kidney, urinary, gut problems, etc. But what about pets' mental health and longevity? Let's learn more in this article.
PART 2: ASTAXANTHIN & PET'S MENTAL HEALTH
Dogs and cats have feelings, too (albeit less complex than ours as far as today's science understands). Pets feel a wide range of emotions such as happiness, sadness, stress and anxiety, etc. In particular, dogs are easily stressed and need the company of others. Sadly, our working schedules predominantly mean that pets stay home on their own in an enclosed space (crates, a single room, a city apartment, etc.). (It makes sense why pets jump excitedly on you when you come home from work!) When pets are let outside, they then deal with other stressful factors such as crowds, chaotic streets, urban noises, air pollution, etc.
Stress over a continued period may reduce pets' sleep quality and sensibility, alter their tempers and ultimately bring about diseases that will shorten their lifespan.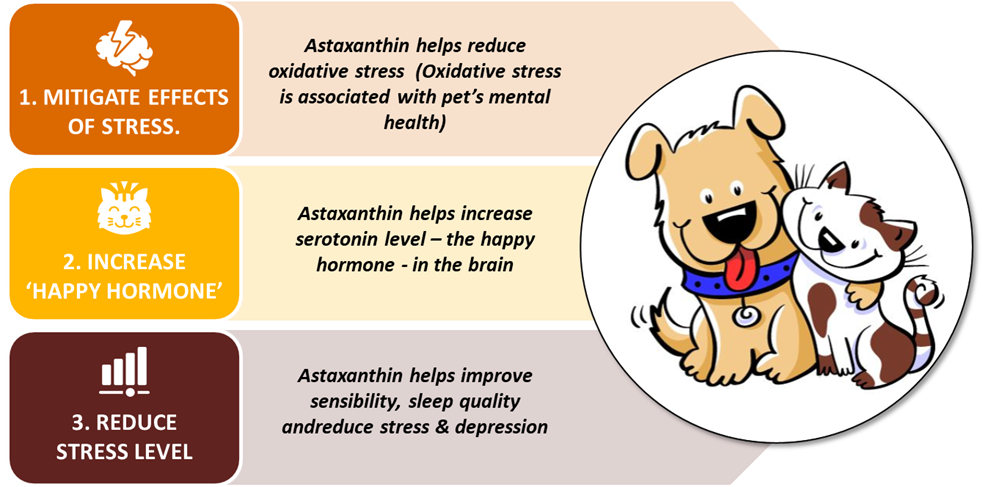 1- ASTAXANTHIN MITIGATES THE EFFECTS OF STRESS.
Research has shown that oxidative stress is associated with depression, anxiety and psychiatric-related disorders [1]. Living with stress is likely to worsen overall oxidative stress and vice versa, resulting in a downward mental and physical health spiral.
Antioxidants to the rescue! Antioxidants can help control oxidative stress and mitigate the effects of stress on pets.
And if you had to choose, what could be better than Astaxanthin – the most potent antioxidant on this planet known to scientists?
2- ASTAXANTHIN INCREASES THE "HAPPY HORMONE"
A low level of Serotonin – the "happy hormone" – has been associated with sleep disorders, anxiety, and depression. A study on mice by Jiang and partners (2017) showed that Astaxanthin increased serotonin levels in some brain areas (the hippocampus, frontal cortex, striatum and hypothalamus) [2]. The reason indicated is that Astaxanthin possesses an antidepressant-like effect to improve emotional wellbeing. Now we know there is no 'cure' for depression, but Astaxanthin poses as a potential resource to alleviate depression in both humans and pets!
3- ASTAXANTHIN REDUCES STRESS LEVELS
In all honesty, we've found that researchers do not fully understand Astaxanthin's mechanisms in reducing stress. Yet many in vivo and vitro trials have demonstrated Astaxanthin's efficacy in improving sensibility and sleep quality and reducing stress and anxiety in many species, including pets.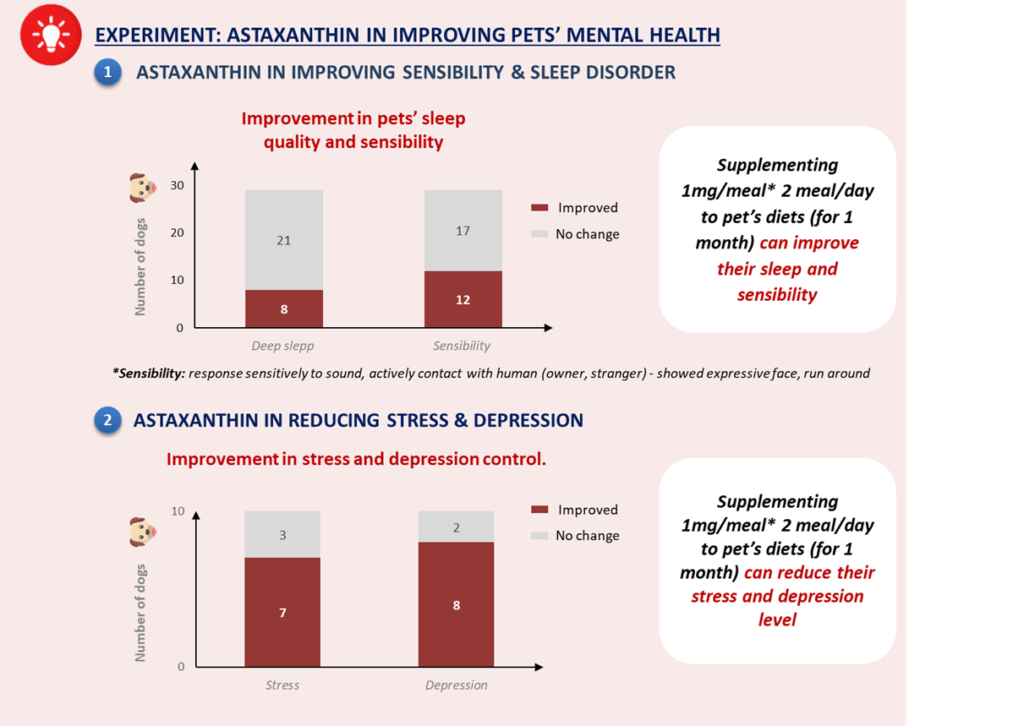 PART 3: ASTAXANTHIN DELAYS AGEING AND MITIGATES AGEING IMPACTS ON PETS.
The senior pet population is on the rise. 47% of American dog owners and 43% of cat owners have a pet aged 7 or older. (7 may not sound that old, but considering a pet's total lifespan, this is equivalent to humans in our golden years of 50+) [3]. Senior dogs and cats are known to develop numerous health problems, including:
Joint pain & Arthritis: Stiffness, decreased range of motion and increased risk of obesity
Oral disease & Loss of appetite: Loss of teeth and appetite, bad breath.
Cognitive decline & Loss of vision and hearing: Disorientation, declined memory and responsiveness. Up to 62% of dogs aged 11-16 years old show at least one sign of canine cognitive dysfunction (or Dementia) – similar to Alzheimer's in humans [4]
Other chronic diseases such as cancer (causing half of the death in dogs and cats aged 10+ years old [5]), Obesity (40- 50% of cats and dogs aged 5-11 years old weigh higher than their ideal weight [6]), Diabetes, and Chronic kidney disease, etc.
All the money and love in the world can't stop pets from ageing. But what we can do is to give them the best fighting chance to enjoy their golden years and live a healthy and happy life for as long as possible. And one weapon in your arsenal is to add Astaxanthin to their everyday diet!
Why?
1- CELL-LEVEL PROTECTION
Mitochondrial dysfunction has been associated with normal aging and the development of a wide range of age-related diseases [7].
Mitochondria is the powerhouse of the cell. Although the chemical reactions by mitochondria produce energy, they unfortunately also produce free radicals. Mitochondria is a major site of free radical generation in cells [8]! Thus, Mitochondria are highly susceptible to oxidative stress, leading to cell ageing and related diseases.
It's of vital importance to protect mitochondria!
And (once again), Astaxanthin to the rescue!
Not just potent in antioxidant activity, Astaxanthin can also help target the cell's most vulnerable to oxidative stress places – mitochondria (and cell membrane). For example, research on dogs and cats showed that approximately 40-50% of the total Astaxanthin uptake by blood leukocytes occurred at the mitochondria [9].
2- ORGAN-LEVEL PROTECTION
Astaxanthin can deposit in and protect different organs within the body, such as the brain, eye, joint, teeth, etc. – body parts that show obvious signs of ageing (see figure 2 for more details about Astaxanthin's protection mechanism).
Amazingly, Astaxanthin can cross the blood-brain barrier, exert its antioxidant capacity and protect the brain – an organ with high oxygen consumption (20% of the total oxygen in the human body) that is highly susceptible to oxidative stress [10]. Based on positive findings, Astaxanthin continues to be examined as a potential option to slow the progression of Alzheimer's in people!
We hope to have demonstrated the "superpowers" of Astaxanthin in pets. This small but mighty carotenoid can help pets improve their mental and physical health, prevent and treat common diseases and live with us longer! We no longer treat pets as animals but rather beloved family members. Thus we hope it is 'sooner' rather than 'later' that Astaxanthin finds its way into your pets' diet and maybe yours as well.
Now, if you are a Koi fish owner, you might wonder: Does it apply to my fish as well?
Whether you raise pet fish or eat fish (a bit of a morbid line when put together) or are interested in natural and sustainable Aquaculture farming, Astaxanthin can offer advantageous values to the marine sector. All of which we will explore further in our upcoming article – "Aquatic Fantasy – Beyond Pigments!"